We're in the final stretch of voting for the 20SB Bootlegger Awards, and I know I have to go big or go home. Up against heavyweight bloggers like
Lilu
,
Jenn
,
Phampants
and
Wishcake
, I really do feel like the underdog. The dark knight. Or is it dark horse? Either way something dark. Like wet jeans that chafe your crotch. So to bring out the big guns I'm giving you what may be my worst TMI Thursday yet. Enjoy!
(Unless you're my mom in which case, please stop reading. It's for your own good.)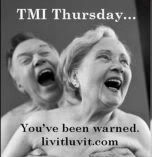 When I was twenty I moved to Terrace, B.C. to go to college which was lamens terms for drink a lot and not go to class. We'd all get sexyfied up up and go out to the bar for vodka slimes and paralyzers every Friday and although picking up men was not the goal, they were always nice to look at.
Until one night when looking turned to touching. His name was Rick. I think. Meh, his name isn't important. The point is, I went home with him. Skanky, no? No. Not so much. You see cause at that point I had my virginity in one iron clad fist and someones blue balls in the other hand. I didn't want to give it out to just anyone, so instead I went home with men for heavy petting. Yes, I was the 'Everything But Girl'. In retrospect, why I was not raped, shanked and left for dead is beyond me. Stupid, stupid girl.
But anyways, I digress.
We got back to Rick's place and after some heavy making out and a couple layers of clothing coming off I decided to use him as practise for the blow job skills that Cosmo had been instructing me about earlier. I was really excited as at that point I'd only ever given one bj in my life for a man that couldn't quite salute the flag so I was excited to have a willing member to play with. And it was, well. A blow job. What can you expect?
The only thing is Cosmo had never told me that sometimes while your focusing on sucking and moving and tongue action and hand placement is that guys sometimes like to push on your head. Even when you have a bad gag reflex. Even when you've had one too many China White Shooters. Yeah, you know where I'm going with this.
He pushed on my head
. And I puked all over his junk.... And groin. ...And sheets.
The good news is that we were in the dark and his reaction time was a little slow so while he was figuring out what the wet was and where it came from, in the dark I'd managed to grab for my clothes and just run. I've never run so fast out of a place. And that lead to the drunken walk 45 minutes home at five in the morning without shoes.
But you can make damn sure I've never made that same mistake again. The ten words every man needs to know are "You push on my head. I puke on your dick."
The end.
If you think that's awkward, feel free to
go here and vote me for Most Awkward Blogger
!