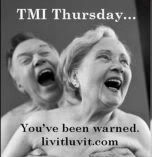 So, on Friday I had the unique pleasure of getting a Pap smear AND a cervical biopsy at once. Yeah, I know, you'd think it was my birthday or something (
and I just officially lost all my male readers
).
Let me tell you there is nothing comfortable about a pap smear from the bottom bearing paper gown to the poking and the prodding of your vadge like it's a grade four science experiment. The epic point came when the MALE doctor came towards me with the cutter thing and stated, "This won't hurt a bit." And before I could think, I shrieked back, "How do You know? You don't have a vagina!"
Yeah, a little bit of comedy to go with awkward vaginal probing. Thank you, thank you. Tip your waitress.
But none of this was an embarrassing as the time I had to go and get my tampon taken out in the walk in clinic by Santa Claus.
K, whaaaaa?
A few years back, I decided to do the whole switcheroo to tampons because before that point I'd read too embarrassing stories relating to them in teens magazines. But figured there's obviously a market for them so started using the cotton plugs to do what they do. It's a pretty straightforward thing I don't need to get into.
Except that one time I went to ummm, remove the said plug and there was a bit of a problem. Ya see, the string came out. But the tampooni stayed right nice at home in my ladycave. After checking to see that fingers wouldn't do the trick and damning my small and childlike hands I realized I'd either have to shove tongs up my vadge to get it out or go to a medical professional.
I chose the medical professional.
So off I went to the walk in clinic on a Saturday to wait for two hours. Two hours so that a doctor could come into the room that looked exactly like Santa Claus. White beard, glasses, flushed red cheeks (of course the fact that I was spread eagle with a stuck tampon may have had something to do with that) and a belly that was probably robust from beer not milk and cookies, but yeah. Santa Claus. With a duck. Removing my tampon and remarking how he'd only heard about this thing from other doctors, but I was his first stuck tampon.
Glad to be your first. Charmed, I'm sure.
Ever since then I have been paranoid about checking that damn string first. Because really, theres only so much vaginal probing a woman can take without dinner first.